CHERYL RADEBAUGH, Administrator
Cheryl's main focus is finding out what participants can still do, stopping others from focusing on what they can't and then filling participants' days full of purposeful activities that enrich their lives. Since 2010, she's run daily operations of the Canterbury Care Center, building up clientele and creating staff schedules and monthly calendars & menus. In 2012, Cheryl took up the helm as Administrator, providing direction to all staff and taking charge of adult day center operations. Cheryl loves making participants feel safe and accepted. Her educational background is in Alzheimer's and Dementia.
Email: ccc@donobi.net
VERONICA WERDER, Program Manager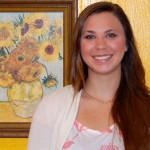 New to the team is recent Central Washington University graduate Veronica. Her experience working with seniors, degree in Recreation Tourism Management and sunshine-y disposition made her the ideal candidate for completing the Care Center family. Thanks to her expertise and out of the box ideas like bowling and mini golf, seniors are working their bodies all day long!
Email: carecenter@donobi.net